Kidz 04 JAN 07
---
StarLink-IRC Statement on Child-Safe Chatting
IRC, for good or bad, is populated with a rather strange collection of characters, most of whom are fairly harmless. However, as with any other segment of humanity, there are those who would take advantage of the young or defenseless.
StarLink-IRC fully supports child-safe chatting through awareness, education, and assistance. IRC is, by nature, an unmoderated medium and we do not monitor conversations of which we are not a part. However, we ARE ready to assist in identifying unusual or predatory behavior and your reporting it to proper authorities. (See the links below to the FBI site, for example).
Awareness: First and foremost, parents need to be aware of the pitfalls that are associated with their child's use of Internet. Allowing your child to use the Internet is the same as letting them use the telephone.
Education: You spend time teaching your kids how to use the phone, what to say, and more importantly, what not to say when talking on the phone... so spend the same amount of time on teaching them that people on the internet are strangers no matter how friendly they may seem at first.
Support: If you have any question about possible predatory or abusive behavior encountered on the StarLink-IRC chat net, please do not hesitate to ask in #Channels. Please let us know if you have any questions or comments about our safe chatting policies.
Heads up Notice: Family PC Site
The link to the Ziff-Davis Family PC site has been removed. The reason: On the very first page is a form for submitting personal information (name, address, etc.) to subscribe to their magazine. This page is not secured nor is there a clearly visible warning about providing personal information.
Given that this site is aimed at families and, presumably, children, the asking for personal information for magazine subscriptions is, simply, an indication that the desire for profit exceeds the desire to help.
Unfortunately, this happens to many helpful and safe sites once someone figures out they can make a buck under the guise of helping kids. We don't object to anyone making a profit, only to doing so in violation of personal privacy issues, PARTICULARLY with regard to children.
Webmaster, StarLink-IRC
I

Meanwhile, here are some fun and informative links for parents and our younger visitors!
Internet Child Safety and Education
---
Check out Santa's Village at CLAUS.COM
and thanks to Amazing for finding this link!
Views of the Solar System
Everyone should read FLATLAND (new link)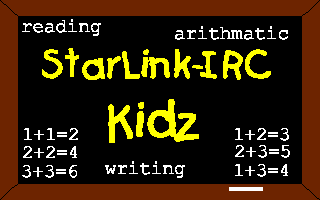 ©2007StarLink-IRC.org All Rights Reserved